Educational Toy - Wooden Balancing Game Set
Read reviews | Write a Review
Free and Easy
Returns
60 Days
Money Back Guarantee
Designed
in the USA
Product Details
Do you want the best for your child? Educational Toy - Wooden Balancing Game will provide you that! Are you asking yourself how to replace cartoons or tv shows, but still come up with fun and educational activities for your child? This game is the right choice!


Help your toddler learn colors and balance while enjoying together. The game is gathered around throwing the dice, choosing colored blocks and stacking them on the base. The goal is to stop blocks from collapsing! Kids will build different shapes, resolve problems, and learn how to be patient. Indeed this balancing game is the perfect educational start.
eco-friendly - this toy is made of wood, not from plastic, so it is long-lasting, reparable, and non-harmful for the environment
safety - this toy has no sharp ends and is completely safe for small children
developing kids skills - the game will help your child to develop patience, strategical thinking, problem-solving and motoric skills by improving hand-eye coordination
learning about basic concepts - color, size, and weight will become familiar to your child
developing creativity and divergent thinking
learning about cooperation - teach your kid how to get along with others using this game 
teach little children about basic concepts of color, size, and weight balance in a practical way
quality family time - everybody can participate and have fun together
it will keep your child busy and focused for hours
Material: wood
Size:
Moon: 17 cm x 7 cm
Dolphin: 20 cm x 10 cm
Age range: for kids older than 18 months old
Package includes:
Moon (20 pcs set): 1 x moon base, 1 x dice, 18 x wooden blocks
Dolphin (28 pcs set): 1 x dolphin base, 1 x dice, 26 x wooden blocks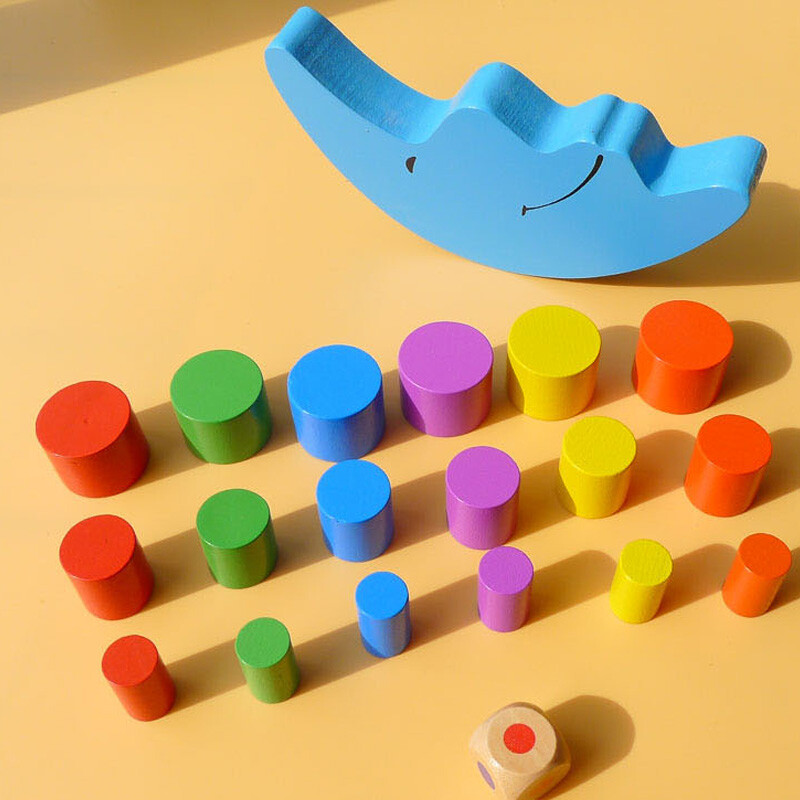 Reviews
x
Rules of the offer:
1. You can buy 3 products or different product variants (colors, sizes, etc) of the same product and get 1 of them for free (the cheapest one will be free);
2. No coupon needed. Discount will be applied automatically at Checkout;
3. You can't combine this offer with other discounts;
4. You need to have at least 3 items in your cart to get free item;
5. The more you buy, the more free items you get (i.e. buy 6 items, get 2 of them for free).