Indispensable - Welding Magnetic Head
Read reviews | Write a Review
Free and Easy
Returns
60 Days
Money Back Guarantee
Designed
in the USA
Product Details
Welding, grinding and polishing all often involve a need to hold workpieces in place. Switchable welding magnets are a safe and convenient solution. Our Indispensable - Welding Magnetic Head Handy is a welding ground clamp that effectively speeds up the grounding chores for welders. It is made of premium metal and insulation magnetic board for safe and durable usage. 
This magnetic head is engineered with copper tail welding stability and with strong magnetism large suction. Designed to be the perfect tool helper for all pro and newbie welders. Durable and long-wearing that retains its strong magnetic properties for decades! 
with copper tail welding stability

- f

or your convenience and safety

easy to use and operate

with strong magnetism large suction

- single absorbable weight up to 3 KG
strong suction power - it does not fall off to make the work of the workers more guaranteed, safe, and securely
saves time - a single-person operated product, strong magnetic adsorption, saving time and effort
it can be attached easily and securely to any smooth metal surface
helpful for welders - it can hold and remove a ground point for any welding job
versatile - applicable for both flat and curved surface, it can hold tightly without budging easily 
wide application - it can also be used to fix a car dent, 

can also be attached to metal poles, struts, railings, or the welding table itself

an innovative tool the speeds up grounding chores for welders
Material: strong magnet, metal
Size: 6 cm long (2.4 in)
Package includes: 1 x welding head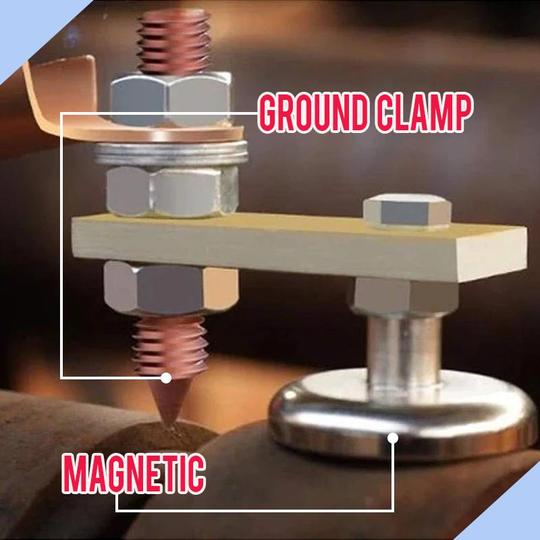 Reviews
x
Rules of the offer:
1. You can buy 3 products or different product variants (colors, sizes, etc) of the same product and get 1 of them for free (the cheapest one will be free);
2. No coupon needed. Discount will be applied automatically at Checkout;
3. You can't combine this offer with other discounts;
4. You need to have at least 3 items in your cart to get free item;
5. The more you buy, the more free items you get (i.e. buy 6 items, get 2 of them for free).