Pet On the Go - Travel Backpack
Read reviews | Write a Review
Free and Easy
Returns
60 Days
Money Back Guarantee
Designed
in the USA
Product Details
Our Pet On the Go - Travel Backpack allows you to take your smaller pet with you wherever you go. Designed with two mesh side pockets, which can be used to put snacks, canteens, and other small objects! Designed with a zipper and drawstring to provide additional safety for your lovable pet.
It is a wonderful and convenient carrier when you want to take your pet with you while keeping your hands free. The buckle design inside the bag can be connected with the pet collar, which will prevent the pet from leaving and protects pet safety. Now you can keep your dogs or cats safe and comfortable on every adventure!
safe and soothing - designed with a zippered pet pocket lets you reach into the bag and directly calm your dog or cat without opening the bag
features an innovative design that gives pets ample room
durable - made with heavy-duty materials with a strong EVA base gives pets stable support, and zippers keep pets from escaping
ideal for work, traveling, and camping
gives comfort for owners - with a

 three-dimensional ventilation back pad that keeps owners' backs from sweating

safe for pets - ergonomic chest and waist straps help distribute weight, preventing back and shoulder strain
spacious and convenient - this travel bag fits cats and small dog breeds
wide usage - built with straps and pockets for storing pet supplies, treats, leashes, toys, as well as your water bottle, wallet, and phone
small size - can carry dogs with up to 4 kg weight
large size - can carry dogs with up to 8 kg weight
Material: 
Fabric: 70% Polyester, 30% eco-friendly PVC
Inside: 100% Polyester
Filling: 100% PE foam

Sizes:
Small: 30 cm x 16 cm (11.8 in x 6.3 in)
Large: 36 cm x 21 cm (14.2 in x 8.3 in)

Package includes: 1 x pet bag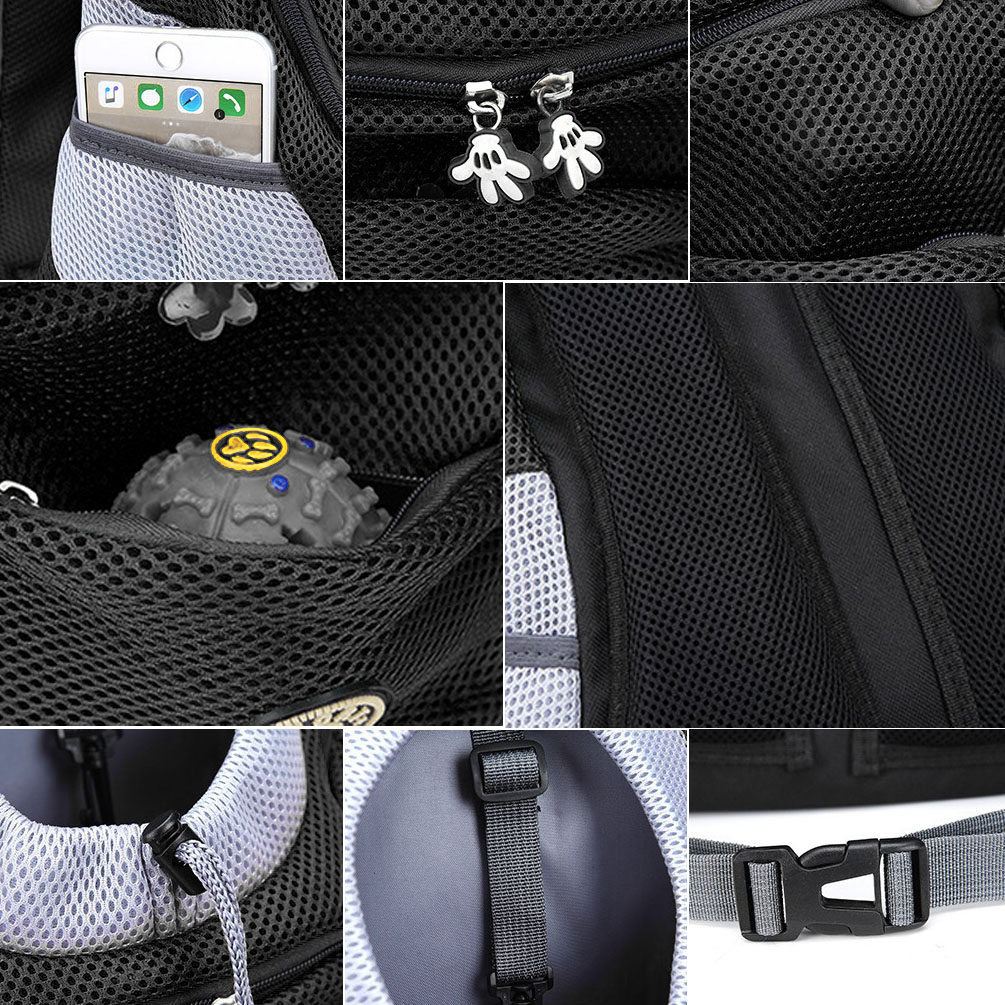 Reviews
x
Rules of the offer:
1. You can buy 3 products or different product variants (colors, sizes, etc) of the same product and get 1 of them for free (the cheapest one will be free);
2. No coupon needed. Discount will be applied automatically at Checkout;
3. You can't combine this offer with other discounts;
4. You need to have at least 3 items in your cart to get free item;
5. The more you buy, the more free items you get (i.e. buy 6 items, get 2 of them for free).